Tressa Feher was busy with her job in Washington, D.C, working for the Gay and Lesbian Victory Fund. "I saw the importance of the mission of the the Victory Fund in encouraging the LGBT community to run for office. I loved my job and saw the results of my work everyday. I was thrilled to find work at the Victory Fund," Tressa said. "Everything was going well there in a routine fashion - until Lauren was hired and changed my life."
Lauren Peters began working for the Gay and Lesbian Victory Fund in the fall of 2007. She and Tressa worked side by side for a few months before she realized that she was beginning to regard Tressa as more than just a colleague. "We would find ourselves talking to each other more and wanting to tell each other about our days and wanting to spend more time with one another," Lauren said. "I really enjoyed talking to her. As time progressed, it became apparent that we were developing a mutual attraction and romantic feelings."
Lauren decided to act on her feelings and ask Tressa on a date. "I had to ask her multiple times before she finally said yes!" Lauren said. "Luckily for both of us, I was determined enough to keep pursuing her!"
The pair began seeing each other in the spring of 2008. "I fell for her quickly," Tressa said. "She came in and swept me off my feet! I knew early on that Lauren would always be in my life."
About a year into their relationship, Tressa decided to make a bold career move. She told Lauren that she planned to move to Chicago, and that she wanted Lauren to join.
"It was a hard decision to make, but she needed to be closer to her family after her Dad had a heart attack. We stayed together and made the relationship work long-distance. I already knew that I loved her and wanted to build a life with her," Lauren said. "So, I found a job in Illinois and followed her."
The couple packed their bags and relocated to Chicago, and after settling into their new home together, Lauren was ready to make the next big step: Asking Tressa for a lifelong commitment.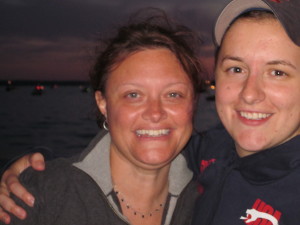 "I knew for awhile that I wanted to marry Tressa, but I was finally ready to pop the question!" Lauren said. "I invited Tressa's best friend and a mutual friend of ours to spend New Year's Eve with us in Chicago, and told them about my plan to propose! They helped me keep it a secret from Tressa."
As the ball dropped to ring in 2011, Lauren asked Tressa to be her wife. "I was so excited! Of course I said yes," Tressa said. "It was a beautiful way to begin a new year and life together."
In the glow of their new engagement, Tressa received some tragic news. "I found out that I had breast cancer," she said. "I have never been more terrified in my life. Aside from knowing that I could become so sick and have a tough fight ahead of me, I was unsure of how my family would be treated by the hospital. I had heard so many horror stories of partners being turned away from hospital rooms, being unable to make decisions for their spouse and not being allowed to support them. Having cancer is a true horror, and wondering if Lauren would be allowed to be by my side was an unnecessary worry."
Tressa and her doctors decided the best route of treatment was to undergo a double mastectomy, the most aggressive form of treatment for breast cancer. As she entered her 11-hour surgery, Lauren was horribly nervous.
"It was the longest day of my life. I have never felt as afraid as I did in that moment," Lauren said. "Being uncertain if the love of your life will be healthy, and unsure if you will be able to be there for her in her time of sickness is unbearable."
Tressa was a strong survivor and pulled out of the surgery well. Lauren was also able to be by Tressa's side while she recovered - but until she was in the recovery room with Tressa, she worried that the hospital staff would turn her away.
"To put that level of stress on a couple who is already dealing with a major illness is unthinkable," Lauren said. "We shouldn't have to rely on the hospital staff to be understanding of our relationship. If Illinois had the freedom to marry, my right to be with Tressa would not have even been questioned."
After Tressa's recovery, the couple was finally able to dedicate their energies to planning their wedding.
They had their civil union ceremony near their home in Chicago. On one of the hottest days of the year, their friends and families joined them while they promised their lives to loving one another. "I watched her walking up the aisle in front of me, and I kept smiling and trying to remember to breathe," Lauren said. "I remember thinking I had never seen her so beautiful."
Tressa and Lauren's wedding day was a day of perfection, full of love, celebration, and a promise for the future. But despite the joyous occasion, their marriage is not recognized in Illinois. The couple is married in their hearts and through commitment, but they are only granted a civil union by Illinois.
Though Illinois does not allow same-sex couples to marry, Lauren and Tressa did not want to leave Chicago, the place they call home, to get married. "We've talked about going to Iowa or Minnesota since DOMA was overturned, but Illinois is our home," Tressa said. "We want to be married in our state. It just seems wrong to go to another state and come back to Illinois and not have our marriage recognized. I also don't want to give anyone an excuse to argue that we shouldn't have marriage here in Illinois because we have the ability to wed elsewhere. I am not a second-class citizen, and I will not accept being treated like one."
Now, Lauren and Tressa are thrilled to be building their lives together and growing their family. "We bought a house together last November and are expecting our first child this November!" Lauren said. "It has been an incredibly exciting year for us!"
While they are thrilled to welcome their first child, they know the road ahead of them is uncertain."Marriage matters to our family because it is our society's highest version of commitment and love. We want to tell our children 'we are married' - and they will know immediately what that means. They know you vowed your love and commitment to this person to be with them and protect them and love them," Tressa said. "When you tell someone you have a domestic partnership or civil union, it doesn't hold the same clout. How will I explain that to our child? That Illinois does not respect our family as much as others. I want to protect and provide for our child to my utmost ability, and Illinois is preventing me from doing that."
Thousands of Illinois couples like Lauren and Tressa are treated as legal strangers in our home state. Illinois legislators are voting on a marriage bill in the upcoming weeks - and we need you to remind them why Illinois can't wait for the freedom to marry. Tressa and Lauren can't wait any longer - and thousands more Illinois same-sex couples can't wait either.
CLICK HERE to call your legislator today and tell them that Illinois is ready for the freedom to marry.