Recent Posts

Archives

Categories

Meta
Latest Blog Posts
View all stories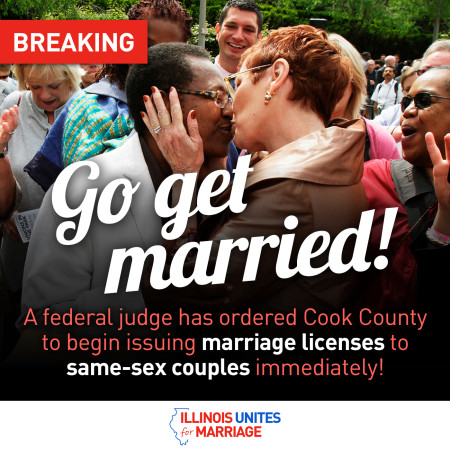 February 21, 2014
Today, a federal judge ruled that the Cook County Clerk's office in Illinois can begin issuing marriage licenses to same-sex couples immediately, months ahead of the original June implementation date. Federal Judge Coleman ruled that Illinois couples can't wait to marry, and ordered Cook County to begin marrying couples immediately.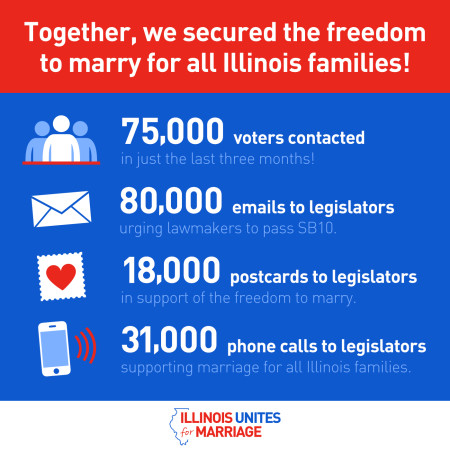 November 19, 2013
As thousands of supporters from across the State of Illinois get set to converge on Chicago for the enactment of Senate Bill 10, the Illinois Religious Freedom and Marriage Fairness Act, the Illinois Unites for Marriage Campaign today released a summary of its work, demonstrating in raw the numbers the grassroots' nature of the activity that led to passage of the bill. Governor Pat Quinn is set to sign SB10 at 3:00 p.m. on Wednesday, November 20, in front of an expected audience of 3,000 people at the University of Illinois-Chicago campus.
November 6, 2013
With all the excitement following Illinois becoming the 15th state to offer the freedom to marry also comes many questions! To learn more about the Illinois Religious Freedom and Marriage Fairness Act and its implementation, visit Lambda Legal and the ACLU's FAQs here.