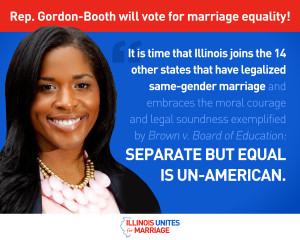 The second and final week of fall veto session today, and already, the push to pass the freedom to marry before lawmakers adjourn on Thursday is off to a strong start.
This morning, Rep. Jehan Gordon-Booth, who has previously been undecided on SB10, announced that she will vote for marriage equality on the House floor. Rep. Gordon-Booth committed her support in an op-ed published in the Peoria Journal-Star, arguing that extending marriage to gay and lesbian couples is the right thing to do for Illinois:
The extension of equal rights to citizens currently denied them does not come at the cost of diminishing the rights of others. As a person of faith, this point is crucial to me, as some have wrongly contended that churches that do not wish to consecrate the unions of same gender couples will be forced to do so or face legal consequences, including the loss of their tax-exempt status. This is absolutely false. Those religious institutions that refuse to recognize same-gender marriages will be as free to do so as those in support will be to perform them. To do otherwise would be a violation of the First Amendment. The separation of church and state, a bedrock principle of our democracy, will in no way be threatened by this bill becoming law.

I will vote for the legalization of same-gender marriage. Many conversations over the last several months with constituents, clergy members, community leaders and legal scholars only bolster my conviction that it is the right course for our state. It is time that Illinois joins the 14 other states that have legalized same-gender marriage and embraces the moral courage and legal soundness exemplified by Brown v. Board of Education: Separate but equal is un-American.
Rep. Gordon-Booth joins a growing number of Illinois representatives who are speaking out for the freedom to marry, including Rep. Al Riley who confirmed yesterday that he will vote "yes" on SB10 on the House floor.
CLICK HERE to ask your legislators to stand with Rep. Gordon-Booth and the strong majority of Illinoisans who agree that now is the time to allow all loving couples to share in the freedom to marry.