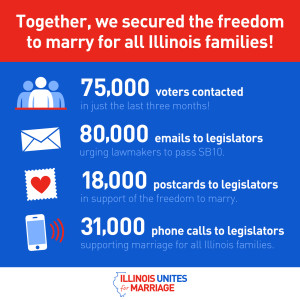 As thousands of supporters from across the State of Illinois get set to converge on Chicago for the enactment of Senate Bill 10, the Illinois Religious Freedom and Marriage Fairness Act, the Illinois Unites for Marriage Campaign today released a summary of its work, demonstrating in raw the numbers the grassroots' nature of the activity that led to passage of the bill.  Governor Pat Quinn is set to sign SB10 at 3:00 p.m. on Wednesday, November 20, in front of an expected audience of 3,000 people at the University of Illinois-Chicago campus.
In releasing a summary of its work, the Illinois Unites for Marriage campaign noted that even the large crowd present for the signing does not reflect the way in which average Illinois residents participated in the effort to add Illinois to the states that recognize the freedom to marry for gay and lesbian couples and their families.   The IUM Summary reflects:
More than 75,000 voters contacted in less than three months

More than 80,000 emails messages were sent to state legislators in the past few months in support of SB10.

Nearly 18,000 postcards supporting marriage equality were collected in targeted legislative districts and later delivered to members during in-district meetings or in their Springfield office.

More than 31,000 phone calls were placed to targeted members offices in support of SB10.
"This raw data shows the vigor and tools that Illinois Unites brought to the field in support of the freedom to marry in Illinois," said John Kohlhepp, campaign manager for the IUM Campaign.   "More important, each of these numbers reflect an Illinois voter, an Illinois family or an Illinois parent who took their time to join the effort to win the freedom to marry in our state."
"Tomorrow's signing is a victory for all these supporters," added Kohlhepp.